Hindu Sikh Relationship
Hindu Sikh Relationship - Tales of Betrayals
It is said that the relationship between Hindus and Sikhs is like "Nails to Skin". It's seamless and been there for generations. The Sikhs never deny that their origin comes from Hindu background and many Hindus continued the tradition of making their firstborn as a Sikh. Even our Gurus also came from traditional Punjabi Hindu families. But it is important to state that Sikhism is a distinct religion with its own theology, scriptures, definitions, and practices.
However, we share the same cultural heritage, family traditions and values. The celebrations of festivals is shared and inter-marriages between the two communities has always been there. The relationship survived the bloody partition of Punjab and the violent period in 1980s.
Hindu Girls Tying Raakhi on Sikh Soldiers
Shared Heritage
My own family comes from a mix of Hindu and Sikh traditions. Sardar Gurditt Singh, the grandfather of my grandfather was married to a Hindu family. His eldest son, Prem Singh practiced Sikhism but the younger sons did not keep Kesh and had Hindu names like, Gian Chand. Over the next three generations, the two streams of family tree now distinctly demonstrate Sikh and Hindu traditions separately.
Our shared heritage is demonstrated by common last names between Sikhs and Hindus. Its common to find Hindus and Sikhs among most castes - Brahmins, Khatris, Aroras, Jatts, Sainis, etc. For example, Master Tara Singh, the Sikh leader during independence of India came from Malhotra family but famous journalist Inder Kumar Malhotra is a Hindu. Similarly, Sunil Jakhar is a Hindu Jatt leader from Punjab but Patiala jail Superintendent Lakhwinder Singh Jakhar is a Sikh. Similarly Ex Prime Minister Manmohan Singh (Kohli) is a Sikh but Virat Kohli, the Cricketer is Hindu. Same can be said other last names like, Sharma, Chhabra, Kapoors, or Maans.
Common Family Names in Punjab
I would also like to give my gratitude and respect to honest and good Hindus from Punjab who stood by their Sikh Brethren in most difficult times.
1. Diwan Todar Mal
Diwan Todar Mall was a wealthy Jain/Hindu merchant of Sirhind, who on the 13 December 1705 performed the cremation of the three martyred bodies of the two younger sons of Guru Gobind Singh, Zorawar Singh aged about 6, Fateh Singh aged about 9 and their grandmother, Mata Gujari.
This incident occurred after the Sahibzade had been executed by the Mughal authorities on the 12 December 1705 for not renouncing their faith and the death from shock of their grandmother at the news of the sudden and despicable execution of the innocent youngsters. This wealthy merchant had to cover the required ground for cremation with gold coins to get the release of the three bodies.
Diwan Todarmal Lays Gold Coins to Buy Land for Cremation
2. Moti Ram Mehra
Baba Moti Ram Mehra was a devoted disciple and servant of the Guru Gobind Singh who, disregarding the risk to his own life, managed to enter the Thanda Burj in a very dramatic manner and serve milk to the Mata Gujri and Baba Zorawar Singh and Baba Fateh Singh, the two younger Sahibzadas (sons) of Guru Gobind Singh for three nights, where they were kept under arrest by the Mughal Governor of Sirhind, Wazir Khan.
Motiram Mehra offering milk to imprisoned Sahibzadas
On December 27, 1704, the Sahibzadas were martyred and Mata Gujri also died. He arranged sandal wood for their cremation. Someone told the Nawab that his servant had served those prisoners with milk and water. The Nawab ordered the arrest of Baba Moti Ram Mehra and his mother, wife and a little son. He did not conceal his act and boldly told the Nawab that it was his pious duty to serve the imprisoned children and their grandmother. Hence Baba Moti Ram Mehra, along with his family, was sentenced to death by being squeezed in a Kohlu (oil press). His sacrifice was first sermonized by the great Sikh warrior, Baba Banda Singh Bahadur.
The Great Divide
So how did the two grew apart? In order to understand this divide, you need to learn about the history of Punjab in last 400 years. While most Sikhs and Punjabi Hindus share common relations and live happily with each other, several events in history have slowly but steadily eroded mutual trust.
Clash between Sikhs and Hindu Shiv Sena in Gurdaspur
Most damage to Hindu-Sikh relationship was done by betrayal of Sikhs in history. Here are some of the examples from Punjab History that still rankle the mind of Sikhs and created a distrust that eventually created the great divide between brothers.
1. Chandu Shah of Lahore
Chandu Shah was a wealthy Khatri and a Diwan in the court of Murtaza Khan, the Nawab of Lahore. He was instructed by the Nawab to execute the order of Mughal Emperor Jahangir who wanted to shut down the spiritual path of Sikhism. Chandu had previous grudge as the Guru had earlier rejected Chandu's offer to marry his daughter with Guru's son. Chandu was allowed to arrest the guru to his house and imprison him in a small cell at the corner of his haveli inside Mochi Gate in Lahore. There he tortured the Guru and starved him for over six months.
After six months, Guru Arjan was dragged through the streets of Mochi Gate and brought to the Lahore Fort.
At the fort, he was tortured by making him sit on heated iron sheets. Mughal court documents say he died after five days of torture (Tuzk-i-Jahangiri). Sikh sources say that the guru wanted to have a bath, and dived in the river Raavi, never to return.
Torture of Guru Arjan Dev ji at the hands of Diwan Chandu Shah of Mochi Gate, Lahore
The end of Chandu Shah is amazingly ironic. Jahangir turned against him and handed him over to Arjan's son Guru Har Gobind. The Sikhs of Lahore dragged him out of 'Chandu de Haveli' and along the same route to the river by the fort. On the way, every Sikh slapped and kicked him in rage. The final ignominy was that the man who poured hot sand on Guru Arjan was made to do the same to Chandu Shah.
2. Hindu Rajas of Punjab Hills - Himachal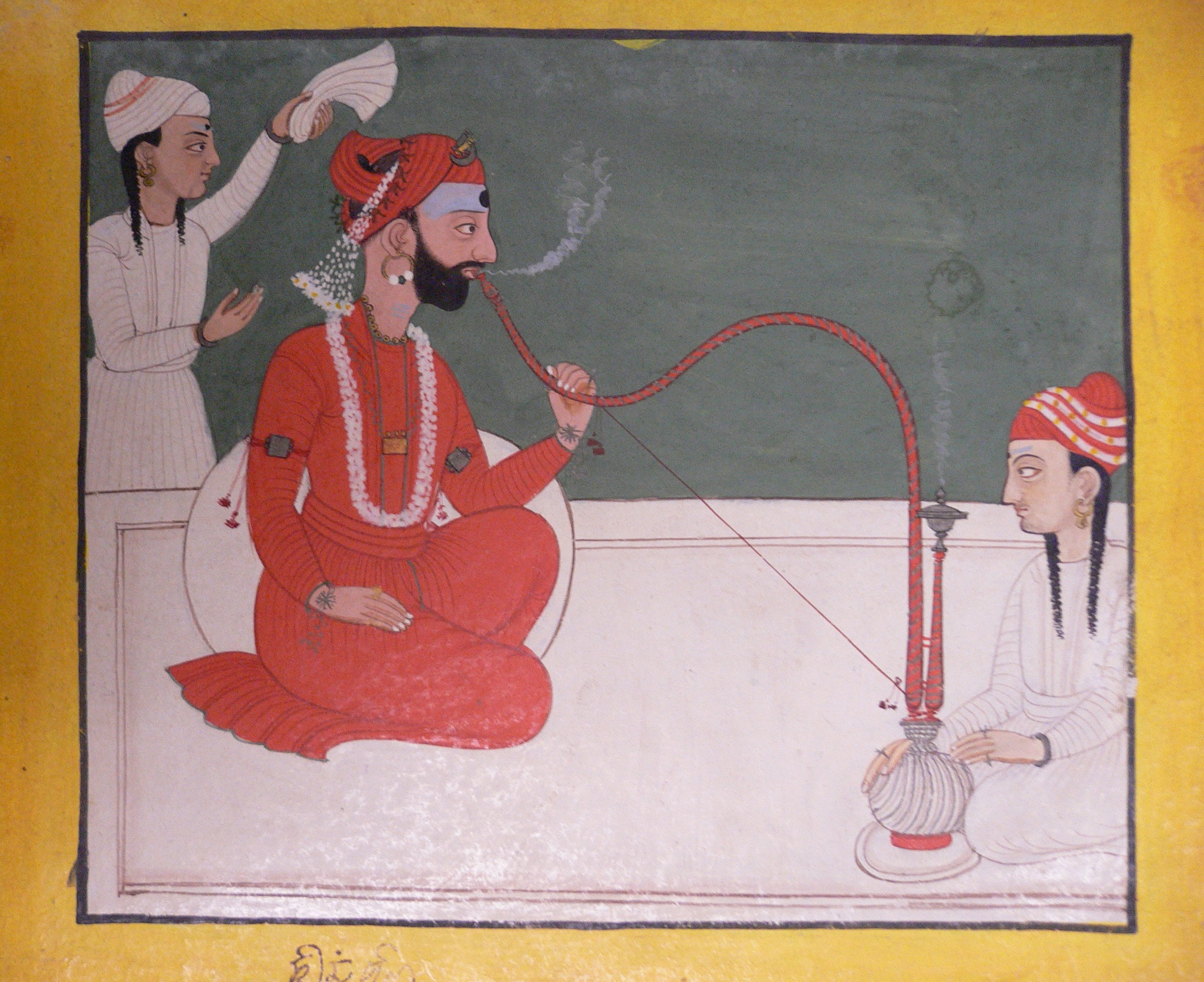 A Hindu Raja from Punjab Hills - Himachal Pradesh
Most of the Hindu rajas of Himachal were followers of the Gurus. When Guru Tegh Bahadur was prevented from entering Harmander Sahib by his Sodhi cousins, he was invited by the Himachal Kings to established Anandpur Sahib on the Punjab Hills. The 9th Guru purchased the land and later Guru Gobind Singh ji established the order of Khalsa there and waged a war against the occupation by Mughals. Initially, the Pahari Rajas all joined in this call but later back tracked when Mughal Emperor Aurangzeb sent a large army. They switched allegience and joined the Mughals in the siege of Guru Gobind Singh and Sikhs at Anandpur Sahib. It was here, the Guru was separated from his family.
3. Gangu Kaul
Gangu Kaul was the cook for Guru Gobind Singh's family. He was one of the Kashmiri Pandits who came to the court of the ninth Guru Teg Bahadur Ji. He helped out in the kitchen preparing langars. After the seperation at Anandpur Sahib, he volunteered to take Mata Guji ji, the mother of Guru Gobind Singh, and his two younger sons, Baba Zoravar Singh, 8, and Baba Fateh Singh, 5 to his home in Kheri village. Later out of greed for family jewels, and reward, he betrayed trust and informed Mughals of whereabouts of younger Sahibzades. Gangu lost his mental balance due to the guilt and was punished by Baba Banda Singh Bahadur after the capture of Sirhind.
Betrayal of Gangu Pundit
It has been suggested that Gangu may have been an ancestor of Motilal Nehru, the father of one of India's most legendary political families, and the grandfather of Indira Gandhi, who attacked Sri Darbar Sahib, Amritsar. Jawaharlal Nehru writes in his autobiography: "We were Kashmiris. Over two hundred years ago, early in the eighteenth century, our ancestor came down from that mountain valley to seek fame and fortune in the rich plains below (Punjab?). Those were the days of the decline of the Moghal Empire after the death of Aurungzeb, and Farrukhsiar was the Emperor (Same period as Gangu). Raj Kaul was the name of that ancestor of ours and he had gained eminence as a Sanskrit and Persian scholar in Kashmir. He attracted the notice of Farrukhsiar during the latter's visit to Kashmir, and, probably at the Emperor's instance, the family migrated to Delhi, the imperial capital, about the year 1716(Sikhs punished Sirhind in 1710). A jagir with a house situated on the banks of a canal had been granted to Raj Kaul, (Why was the Jagir gifted to the Kauls? for the betrayal?) and, from the fact of this residence, 'Nehru' (from Nahar, a canal) came to be attached to his name. Kaul had been the family name; this changed to Kaul-Nehru; and, in later years, Kaul dropped out and we became simply Nehrus." (Was the name changed to disguise the lineage to Gangu?
4. Hindu Rajput Raja Chhatrasal
Bundelkhand Kesri Mahārāj Chhatrasal (4 May 1649 – 20 December 1731), was a Bundeli warrior who chose to turn against the Mughal Emperor Aurangzeb and seek to establish his own kingdom in Bundelkhand. Later he joined hands with Mughal Emperor Farkhursiyar and was ordered to accompany the mughal Army waging Jehad against the Sikhs led by Baba Banda Singh Bahadur. Chhatrasal took active part in siege of Gurdas Nangal and subsequent capture of Baba Banda Singh Bahadur. The heads of Sikhs were presented to the Mughal Emperor for rewards.
Rajput Kings subservient to Mughal Emperor
5. Diwan Lakhpat Rai
Lakhpat Rai was a Diwan(Revenue minister), at Lahore under Zakriya Khan (1726 - 45) and Yahya Khan (1745-47). He came of a Hindu Khatri family of Kalanaur, in Gurdaspur district of the Punjab. He took part in battle against the Sikhs assisting invading Afghan Army as part of Lahore contingent.
During one of his campaigns, Diwan Lakhpat Rai's brother Jaspat Rai was killed. Lakhpat Rai took oath to take revenge. He rejected the appeal of a respected Lahore leader Diwan Kauramal and Sant Jagat Bhagat Gussain. On
1st May, 1745, in the forest of Kachnuwan about thirty thousand Sikhs were massacred by Diwan Lakhpat Rai's army.
11 March 1748, Ahmed Shah Abdali defeated the Mughals and made Moin-ul-mulk as Governor, who became famous with name – Mir Mannu. Diwan Kauramal payed the fine of rupees three lacs with the condition that Lakhpat Rai will be handed over to him. After getting the custody of Lakhpat Rai, Diwan Kauramal handed him over to the Sikhs for payback.
The massacre of Sikhs at the hands of Diwan Lakhpat Rai - Chhota Ghallughara
6. Misr Lal Singh
Raja Lal Singh
(d. 1866), son of Misr Jassa Mall, a Brahman shopkeeper of Sanghoi, in Jehlum district in West Punjab, entered the service of the Sikh Darbar in 1832. Lal Singh increased his influence by winning the favor of those in power. To this end, he engineered, in 1843, the murder of Beli Ram, his own benefactor, and Bhai Gurmukh Singh. He later joined hands with Rani Jindan and her brother, Jawahar Singh. Lal Singh proved disloyal to the Sikh Darbar in the AngloSikh war of 1845-46. On the eve of battle of Sabhraon (10 February 1846), Lal Singh is alleged to have sent to Captain Nicholson a map of the Sikh entrenchments. During the battle, he kept his artillery battalions and the dreaded Ghorcharas (Sikh Cavalry) away from the battlefield and himself retired to Lahore. After the war, he was suitably rewarded by the British. He however, lost British patronage and was tried by a Court of Inquiry and found guilty. He was removed from his high office and expelled from the Punjab with a pension of 12,000 rupees per annum. He was sent to Agra and then to Dehra Dun, where he died in 1866.
Misr Lal Singh disguised as Sikh Warrior
7. Dogra Raja Gulab Singh
Gulab Singh (1792–1857) was the founder of royal Dogra dynasty and first Raja of the princely state of Jammu and Kashmir, which was created after the defeat of the Sikhs in the First Anglo-Sikh War. On the death of Ranjit Singh in 1839, Lahore became a center of conspiracies and intrigue in which the three Jammu brothers were involved. They succeeded in placing the administration in the hands of Prince Nau Nihal Singh with Raja Dhian Singh as prime minister. However, in 1840, during the funeral procession of his father Maharaja Kharak Singh, Nau Nihal Singh together with Udham Singh, son of Gulab Singh died when an old brick gate collapsed on them. Meanwhile, in the continuing intrigues at Lahore the Sandhawalia Sardars (related to Ranjit Singh) murdered Raja Dhian Singh and the Sikh Maharaja Sher Singh in 1842. Subsequently Gulab Singh's youngest brother, Suchet Singh, and nephew, Hira Singh, were also murdered. Gulab Singh survived and agreed to negotiate on his behalf with the Sikhs. The Treaty of Amritsar, 1846, formalized the sale by the British to Raja Gulab Singh for 7,500,000 Nanakshahee Rupees of all the lands in Kashmir that were ceded to them by the Sikhs.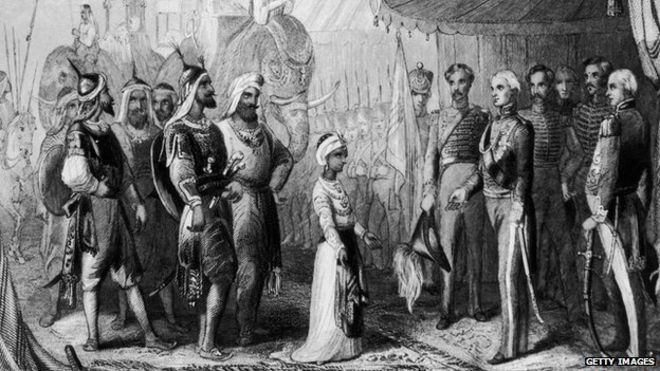 Dogra Raja Gulab Singh accompanying youg Sikh Prince Duleep Singh at the surrender
8. Dayanand Saraswati
Dyanand Saraswati, a Tiwary Brahmin from Gujrat formed Arya Samaj, a reformist Hindu organization based on Vedas and belief that Aryan Hindus were superior race. He was invited by Punjabis to Lahore and many Sikhs and Hindus became his followers as he wanted to bring back Muslims back to Hindu or Sikh folds. Dayanand betrayed their trust by turning against the Sikhs and converting them into Hinduism with his "Shudhdhikaran" program. He even insulted Guru Nanak and Guru Granth Sahib in a Lahore meeting and wrote derogatory comments about the Gurus in "Stayarth Prakash". This alarmed Sikhs and Singh Sabha movement was raised to counter the conversions by Arya Samaj.
Arya Samaj in Lahore, Punjab with newly converted Sikh boys
9. Jai Bhagwan
The most significant part of
Bhagat Singh
's life is that spent in jail since his arrest on April 8, 1929 from the Central Assembly in Delhi, where he and
B.K. Dutt
offered themselves to be arrested after throwing harmless bombs in the Assembly to 'make the deaf hear.' They faced two trials. The first was in the Delhi bomb case. It started on May 7, 1929 in Delhi and was committed to the Sessions Judge, on charges under Section 307 of the Indian Penal Code and the Explosives Act. Later he was charged with the Lahore conspiracy and murder of British police officer Scott. The prosecutors did not have any evidence until, one of his colleague
Jai Bhagwan
, a
Punjabi Hindu of Lahore betrayed Bhagat Singh and became an informer.
Death Sentence of Sardar Bhagat Singh
10. Lala Jagat Narain
Lala Jagat Narain (Chopra) the Owner and Chief Editor of Hindu Samachar Newspaper group, was responsible for instigating Punjabi Hindus to not write Punjabi as their mother tongue. He wrote articles in his newspaper asking Punjabi Hindus to disown their mother tongue and start speaking Hindi. Sikhs felt that his editorials slandered Sikh Gurus and challenged the notion of having a separate identity from Hinduism. Even in the 1978 Amritsar massacre, Lala was present as a witness and gave statements against the peaceful Sikh protesters of which 13 Sikhs were killed. Sikhs distrusted him as a Hindu revivalist and an Arya Samaji who put the interest of his religion above that of Punjabis and Punjab. He was shot dead on 9 September 1981, near Amaltas Motel on the national highway while returning to Jalandhar from Patiala.
Lala Jagat Narain of Punjab Kesri - Mastermind of current strife in Punjab
Ashwini Minna-Chopra the grandson of Lala agrees, "An ardent Arya Samaji, Lala was a strong votary of united Punjab, and urged people to prefer Hindi as their preferred language during the division of Punjab on language basis. He did not oppose Punjabi, but he could not put forward his stand with clarity and a section of politicians misinterpreted his stand for their own benefit."
Little did Lala realize that his "urge" will create a divide among the families and rip the fabric of social and cultural harmony between Hindus and Sikhs.
The video link below shows Hindu crowds protesting violently in Delhi street when Indian government announces the formation of Punjab state based on linguistic division.
Sikhs and Hindus share common family bonds but the distrust by the acts of a few has created a wedge between the brothers. This wedge was further widened by Indira Gandhi's ordering Operation Blue Star - which Sikh see as an attack on their identity.Will they ever be able to trust each other and live together amicably ... only time will tell.