Subhash Chandra Bose (23 January 1897 – 18 August 1945*) Respected in India as Netaji (Hindustani: "Respected Leader"), was an Indian nationalist and prominent figure of the Indian independence movement, who attempted during World War II to rid India of British rule with the help of Nazi Germany and Japan. Bose was a twice-elected President of the Indian National Congress, founder and President of the All India Forward Bloc, and founder and Head of State of the Provisional Government of Free India, which he led alongside the Indian National Army from 1943 until his presumed death in 1945. Bose is best known for his advocacy and leadership of an armed struggle for Indian independence against the British Empire, as well as his early calls for Purna Swaraj, or complete self-rule, for the people of India.
Indian Schoolgirl paying homage to Subhash Chandra Bose, the National Hero in Punjab
Leader of Indian National Congress
Bose came fourth in the Indian Civil Services (ICS) examination in England but he did not want to work under the occupying British government.
He resigned from his civil service job on 23 April 1921 and returned to India.
He started the newspaper Swaraj and took charge of publicity for the Bengal Provincial Congress Committee. His mentor was Chittaranjan Das who was a spokesman for assertive nationalism in Bengal. In the year 1923, Bose was elected the President of All India Youth Congress and also the Secretary of Bengal State Congress. In a roundup of nationalists in 1925, Bose was arrested and sent to prison in Mandalay,Burma where he contracted tuberculosis.
In 1927, after being released from prison, Bose became general secretary of the Congress party.
Bose as Leader of Bengal Congress
Bose was again arrested and jailed for civil disobedience; this time he emerged to become Mayor of Calcutta in 1930. In this period, he also researched and wrote the first part of his book The Indian Struggle, which covered the country's independence movement in the years 1920–1934. Although it was published in London in 1935, the British government banned the book in the colony out of fears that it would encourage unrest. By 1938 Bose had become a leader of national stature and agreed to accept nomination as Congress President.
Disagreement with Gandhi- Nehru
Bose stood for unqualified Swaraj (self-governance), including the use of force against the British. He was vocal in his opposition to Gandhi's appeasing diplomacy with the British. This meant a confrontation with Mohandas Gandhi, who in fact opposed Bose's presidency, splitting the Indian National Congress party.
Bose and Gandhi
The rift also divided Bose and Nehru.
Jawahar Lal Nehru was becoming increasingly envious for Bose's popularity.
Bose was elected president again over Gandhi's preferred candidate Pattabhi Sitaramayya. However, due to the manoeuvrings of the Gandhi-led clique in the Congress Working Committee, Bose found himself forced to resign from the Congress presidency.
Bose and Nehru
World War II an India
On the outbreak of war, Bose advocated a campaign of mass civil disobedience to protest against Viceroy Lord Linlithgow's decision to declare war on India's behalf without consulting the Congress leadership. Having failed to persuade Gandhi of the necessity of this, Bose organised mass protests in Calcutta calling for the 'Holwell Monument' commemorating the Black Hole of Calcutta, which then stood at the corner of Dalhousie Square, to be removed. He was thrown in jail by the British, but was released following a seven-day hunger strike.
Bose in Lahore, Punjab
Bose, who had been arrested 11 times by the British in India, had fled the Raj with one mission in mind. That was to seek Hitler's help in pushing the British out of India. Bose's arrest and subsequent release set the scene for his escape to Germany, via Afghanistan and the Soviet Union. Bose escaped from under British surveillance at his house in Calcutta on 19 January 1941, accompanied by his nephew Sisir K. Bose in a car that is now on display at his Calcutta home.
Meeting with Hitler
Supporters of the Aga Khan III helped him across the border into Afghanistan assuming the guise of a Pashtun insurance agent ("Ziaudddin"). After reaching Afghanistan, Bose changed his guise and traveled to Moscow on the Italian passport of an Italian nobleman "Count Orlando Mazzotta". From Moscow, he reached Rome, and from there he traveled to Germany.
The link between Nazi Germany and ancient India, goes deeper than the swastika symbol. The Nazis venerated the notion of a "pure, noble Aryan race," who are believed to have invaded India thousands of years ago and established a society based on a rigid social structure, or castes. Perhaps the most fervent Nazi adherent to Indian Hindu traditions was Heinrich Himmler, one of the most brutal members of the senior command.
Neta ji met Adolf Hitler on May 29, 1942 at the Reich Chancellery. Hitler shared hie East strategy and how Germany could liberate India after defeating Russia.
Bose with Hitler
Netaji met the higher officials of the Foreign Department on April 3, 1941, and expressed his desire to form an 'Indian Government in Exile' and expected its immediate diplomatic recognition from the Axis Powers. He was keen to form an Indian Army with the Indian prisoners of war from North Africa. As requested, he submitted a draft proposal on April 9, 1941 which contained the following:
The Axis Powers would sign a treaty with the 'Free Indian Government in Exile' guaranteeing India's independence from British rule once the war was won

The Indian Army would consist of 50,000 soldiers of Indian origin

After liberating India, Germany would hand over responsibility to the Government in Exile headed by Netaji himself.
In Germany, Bose founded the Free India Center in Berlin, and created the Indian Legion (consisting of some 4500 soldiers) out of Indian prisoners of war who had previously fought for the British in North Africa prior to their capture by Axis forces. The Indian Legion was attached to the Wehrmacht, and later transferred to the Waffen SS.
Indian Legion of Axis Forces
Bose lived in Berlin from 1941 until 1943. During his earlier visit to Germany in 1934, he had met Emilie Schenkl, the daughter of an Austrian veterinarian whom he married in 1937. Their daughter is Anita Bose Pfaff.
Bose with his wife Emilie Schenkl
Japan Enters WWII
The Japanese declaration of war against Great Britain and the US on December 7, 1941, coupled with the advance of the Japanese army towards the Indian frontier radically altered the war situation. Bose traveled with the German submarine U-180 around the Cape of Good Hope to the southeast of Madagascar, where he was transferred to the I-29 for the rest of the journey to Imperial Japan.
Bose on his journey to Japan on a submarine
On arrival in Japan, he was appointed as the leader of Azad Hind Fauj or Indian National Army (INA) founded by General Mohan Singh and Pritam Singh Dhillon in consultation with Indian revolutionary Rash Behari Bose. . The Indian National Army (INA) was the brainchild of Japanese Lieutenant-General Iwaichi Fujiwara, head the Japanese intelligence unit Fujiwara Kikan and had its origins in Indian Independence League, founded by Pritam Singh Dhillon. Fujiwara's mission was "to raise an army which would fight alongside the Japanese army. After the initial proposal by Fujiwara the Indian National Army was formed as a result of discussion between Fujiwara and Mohan Singh in the second half of December 1941, and the name chosen jointly by them in the first week of January 1942.
Captain Mohan Singh and Rash Behari Bose with INA
Bose was able to reorganize the fledgling army and organize massive support among the expatriate Indian population in south-east Asia, who lent their support by both enlisting in the Indian National Army, as well as financially in response to Bose's calls for sacrifice for the independence cause.
Bose with INA
Spoken as a part of a motivational speech for the Indian National Army at a rally of Indians in Burma on 4 July 1944, Bose's most famous quote was "
Give me blood, and I shall give you freedom!
" In this, he urged the people of India to join him in his fight against the British Raj. Spoken in Hindi, Bose's words are highly evocative.
INA Currency
The troops of the INA were under the aegis of a provisional government, the Azad Hind Government, which came to produce its own currency, postage stamps, court and civil code, and was recognized by nine Axis states—Germany, Japan, Italy, the Independent State of Croatia, Wang Jingwei regime in Nanjing, China, a provisional government of Burma, Manchukuo and Japanese-controlled Philippines.
Bose in Japan
INA took active part in defeating British Army in Singapore, Malaysia, Burma, and occupied Indian islands Andaman and Nicobar. The INA's final commitment was in the Japanese thrust towards Eastern Indian frontiers of Kohima in Manipur.
Bose inspecting INA Forces with Capt. Mohan Singh
After the atomic bomb attack on Hiroshima and Nagasaki, the Japanese surrendered to the Americans. The Japanese funding for the INA army diminished, and Commonwealth forces held their positions in Kohima and then counter-attacked, in the process inflicting serious losses on the besieging forces. A large proportion of the INA troops surrendered under Lt Col Loganathan and
Bose was forced to retreat to Burma and then to Malaysia.
Mystery Surround Death of Bose
On 16 August 1945, Bose left Singapore for Bangkok, Thailand. On the 17th morning, he flew from Bangkok to Saigon, now Ho Chi Minh City. On the 17 August afternoon, he flew from Saigon to Tourane, French Indo-China, now Da Nang, Vietnam. Early next morning at 5 AM, he left Tourane for Taihoku, Formosa, now Taipei, Taiwan. At 2:30 PM on 18 August, he left for Dairen, Manchukuo, now Dalian, China, but his plane crashed shortly after take off, and
Lieutenant-General Tsunamasa Shidei, the Vice Chief of Staff of the Japanese Kwantung Army, who was to have made the negotiations for Bose with the Soviet army in Manchuria was also killed
. Bose along with other survivors were treated in a Japanese military hospital.
Obituary for Bose and Shidei
In spite of the treatment, Bose went into a coma. A few hours later, between 9 and 10 PM (local time) on Saturday 18 August 1945, Subhas Chandra Bose, aged 48, was dead.
Bose's body was cremated in the main Taihoku crematorium two days later, 20 August 1945. On 23 August 1945, the Japanese news agency Do Trzei announced the death of Bose and Shidei. On 7 September a Japanese officer, Lieutenant Tatsuo Hayashida, carried Bose's ashes to Tokyo, and the following morning they were handed to the president of the Tokyo Indian Independence League, Rama Murti. On 14 September a memorial service was held for Bose in Tokyo and a few days later the ashes were turned over to the priest of the Renkōji Temple of Nichiren Buddhism in Tokyo. There they have remained ever since.
Bose Monument in Renkōji Temple, Tokyo
Among the INA personnel, there was widespread disbelief, shock, and trauma. Most affected were the young Tamil Indians from Malaya and Singapore, both men and women, who comprised the bulk of the civilians who had enlisted in the INA. The professional soldiers in the INA, most of whom were Sikhs, faced an uncertain future, with many expecting reprisals and court marshals from the British. Indian National Congress's official line was succinctly expressed in a letter Mohandas Karamchand Gandhi wrote to Rajkumari Amrit Kaur, "Subhas Bose has died well. He was undoubtedly a patriot, though misguided."
Gandhi and Nehru had not forgiven Bose for questioning Gandhi and for collaborating with the enemy of the British. The British Raj, tried 300 INA officers for treason in the INA trials, but eventually overturned by the independence of India.
Conspiracy Theory
According to one popular version of events, Netaji Subhas Chandra Bose died in an air crash in Taiwan in 1945. But many of his relatives, friends and followers have disagreed with this narrative, forcing the Indian government to commission three different inquiries into the event between 1956 and 1999.
Most of Bose's lieutenants who had accompanied him on his travels were not allowed to get on the plane with him. They never saw a body. No photographs were taken of Bose after the crash. There are no photos of the body. And there is no death certificate. So it is possible to argue that the Japanese faked his death to allow him to escape the advancing British army.
In 1964, the CIA still believed that Bose was alive! According to media reports, declassified documents showed that the Central Intelligence Agency was told in 1964 that Bose survived an air crash of 1945. The documents also showed that the US spy agency was not convinced of the veracity of the official Japanese version. The reports said that in May 1946, a CIA agent wrote to the US secretary of state saying he had been told that "should (Bose) return to the country, trouble would result which would be extremely difficult to quell". The CIA document said: "There now exists a strong possibility that Bose is leading a religious group undermining the current Nehru government."
A few years after Netaji's disappearance, reports emerged that he had returned to India and lived in the disguise of a sadhu in north India. Some reports even claimed that this sadhu was sighted at Jawaharlal Nehru's funeral, though no such claim could ever be substantiated. Though the sadhu story was never proved, it resurfaced again when the Mujherjee Commission (1999-2005), led by Supreme Court judge M K Mukherjee, explored the possibility of Netaji living in the guise of a hermit in India. The report brought into light a sadhu named Gumnami Baba or Bhagwanji living in Uttar Pradesh.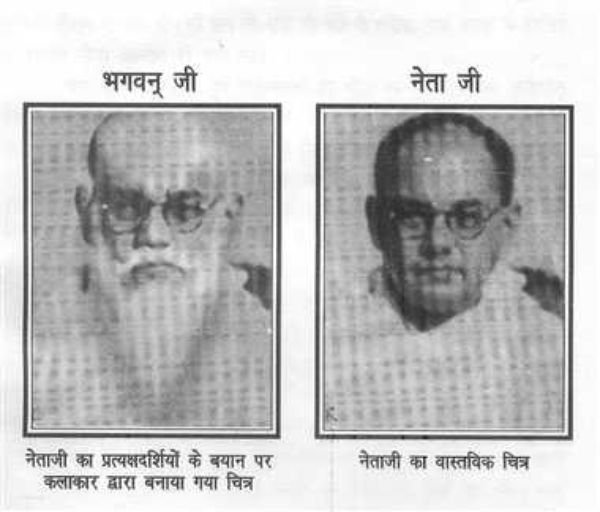 The Mukherjee Commission's report, which questioned the claim that Netaji died in a plane crash, was, however, rejected by the government. This conspiracy theory has become a popular topic of discussion in various newsrooms and book titles. It is alleged by Dr. Purabi Roy, a Russian scholar in his book, "The Search for Netaji: New Findings" that Bose was captured by USSR during Second World War as Axis powers viewed him as a war criminal due to his close relationship with Japan and he later died in Siberia under soviet captivity. Another version of the theory goes by that an Indian monk named Bhagwanji or Gumnami Baba, who lived in Faizabad, Ayodhya had a very close resemblance to Subhas Chandra Bose and that he was Netaji living incognito to hide his real identity. Bhagwanji died on September 16, 1985.
The truth about Netaji is out there. Subhash Chandra Bose remain in the heart of Indians as a heroic figure. We, Punjabis have special love for the man who presented a masculine response to British occupation of India compared to the impotent non-violence theory of Gandhians.
The TRUTH will emerge one day. As I see it, the starting point is Russia. The endgame could be in Russia or Faizabad. This is the point we have reached in the veritable rabbit hole of the modern India's longest-running mystery.